In a small village beneath the massive towers of Great-Grandfather Mountain, Ha-wani, following traditions handed down since before there was remembering, crafts an ordinary clay pot, singing her spirit into the clay as she works it. It is a simple act, but one that will have far-reaching consequences even after she has gone from this place.
The Clay Series
The three books of The Clay Series were inspired by local history of the Sonoran Desert. To prepare for writing these stories, Sharon researched the history of the Spanish entrada into the Southwestern United States and the archaeological history of the area, taking archaeology classes at the local community college, and participating in archaeological excavations. Both The Clay Remembers and The Clay Endures were awarded 5-Star Reviews from Readers' Favorite and all three books were awarded IndieB.R.A.G. Medallions for Excellence. The Clay Sustains was published in 2017.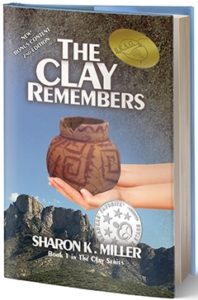 The Clay Remembers involves an archaeologist who comes to Tucson in an effort to hide from an abusive husband. Participating in an archaeological project, she uncovers a broken pot, which from all evidence, dates to the twelfth century but was found at a historical level among artifacts from an eighteenth-century homesteader's ranch. Anna's uncanny connection to the spirit residing in the pot leads her to two women for whom the pot was important. In her effort to reconstruct the broken pieces of the pot, Anna reconstructs her own life, drawing strength from the experiences of those women in order to face her husband when he comes after her. (Visit the Pinterest Board for The Clay Remembers. Available at Amazon, B&N,  Kobo, Smashwords, and Antigone Books in Tucson, Arizona.)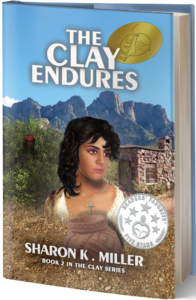 The Clay Endures tells the story of Esperanza Ramirez, whose husband brings her to the site of an ancient village beneath a rugged ridge in the Santa Catalina Mountains north of Tucson to start a cattle ranch. It is a time when, because of Apache depredations, no other settlers ventured that far from the safety of Tucson. Esperanza struggles to hold onto their dream in spite of loneliness, Apaches who steal their cattle and ambush travelers on road to Camp Grant, and a mysterious Apache who watches her from a distance. Finding an ancient pot in her garden offers her companionship with the spirit of the potter who made it and strength to endure the loneliness, to save her husband's life, and to survive an attack by outlaws. (Visit the Pinterest Board for The Clay Endures.  Available at Amazon, B&N, Kobo, Smashwords, and at AntigoneBooks in Tucson, Arizona.)
The Clay Sustains tells the story of the Hohokam woman who, in the twelfth century crafted the pot that became so vital to the women who followed her centuries later. It was a time of struggle for Ha-wani and her people; their village, once an extensive, thriving, open community had evolved into a closed community within a cobble-walled compound huddled fearfully beneath the rugged Stone Towers of Great-Grandfather Mountain. The village shaman is determined, not just to control the village, but to capture Ha-wani's spirit for himself, a spirit he knows is blessed with special gifts. (Visit the Pinterest Board for The Clay Sustains. Available at Amazon, B&N, Kobo, Smashwords, and at Antigone Books in Tucson, Arizona.)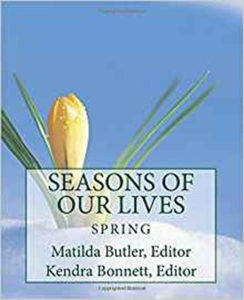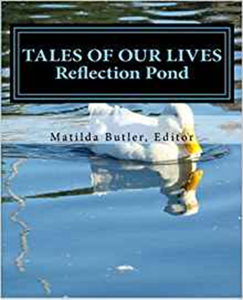 Seasons of Our Lives: Spring and Tales of Our Lives: Reflection Pond ​ Published by womensmemoirs.com
In Seasons of Our Lives: Spring, my memoir piece, "1945," is the story of an incident in the life of Nellie Quinn (my childhood alter ego), providing a lesson in prejudice and childhood impressions of a parent's beliefs.
In Tales of Our Lives: Reflection Pond, "Why Didn't You Catch Me?" tells about my sister's suicide and reveals a great deal about dynamics in a family that didn't like one another and how a simple childhood incident may end up determining the adult that child becomes. It's one of the few memoirs that I have written in first person.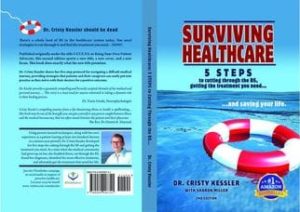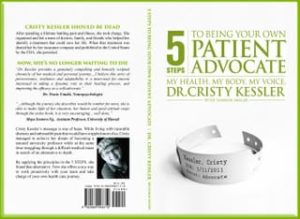 Co-written with Dr. Cristy Kessler and published by Buckskin Books.
Surviving Healthcare: 5 STEPS to Cutting Through the BS, Getting the Treatment You Need, and Saving Your Life, 2015
Five S.T.E.P.S. to Being Your Own Patient Advocate, Second Edition, 2014